Running from 25 November to 10 December.
16 Days of Activism Against Gender-Based Violence is an international campaign to challenge violence against women and girls.
The campaign runs every year from 25 November, the International Day for the Elimination of Violence against Women, to 10 December, Human Rights Day.
West Lothian Health and Social Care Partnership have lots going on this year over the 16 days that you can get involved with, from joining our march to taking part in online discussions. They will be adding to our event calendar over the next month so please keep checking back.
Please also check the WLC Facebook, Twitter page, Public Protection, HSCP for more information.
Check the 16 days of action 2022 Calendar of Events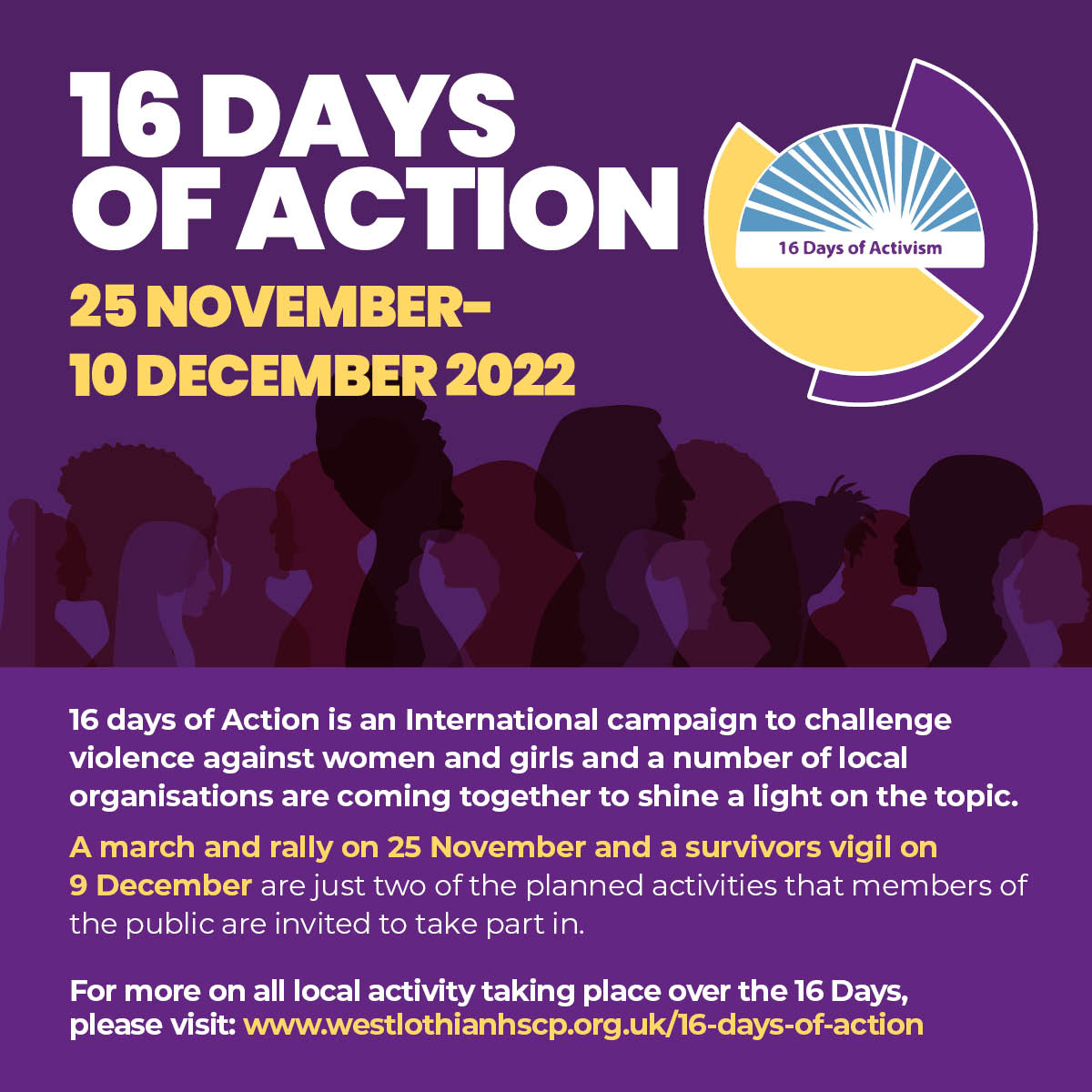 ---
As part of the 2022 programme of events for 16 Days of Activism Against Gender-Based Violence, there will be a series of online 'spotlight' workshops on various topics which have been selected as priorities by the National VAW Network 16 Days Planning Group. Each workshop will explore how stakeholders can work to embed specific learning on the topic into policy and practice at a local and national level, and will focus on the theme of What Next?. The events will be supported by national partners COSLA, Scottish Government, Public Health Scotland and other key partner organisations for each spotlight theme.
The spotlight workshops are now available for registration. Please share this information with your networks and sign up using the links below. Please note: at this stage we are asking stakeholders to register your interest in attending, and you will be contacted by the 14th of Nov to inform whether you have been allocated a place. This is to help ensure that a wide range of organisations and geographies are represented at each event.
Workshop registration:
If you have any questions, please contact Samantha Keogh samantha.keogh@improvementservice.org.uk
A reminder to also send details of your own 16 Days calendar items to be added to the online calendar page ahead of the campaign.