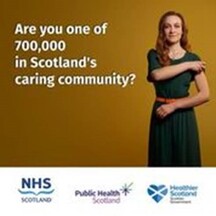 If you are aged 16 or over and provide vital face to face care and support for someone, you may be eligible for the COVID-19 vaccine now.  You can check if you are eligible for the vaccine as a carer by using the self-registration at https://nhsinform.scot/carersregister or by calling 0800 030 8013 to get your vaccination.
​
The telephone line and online portal may be busy so please be patient and don't panic, just try again!
If you have already had your 1st vaccination, you don't need to re-register!