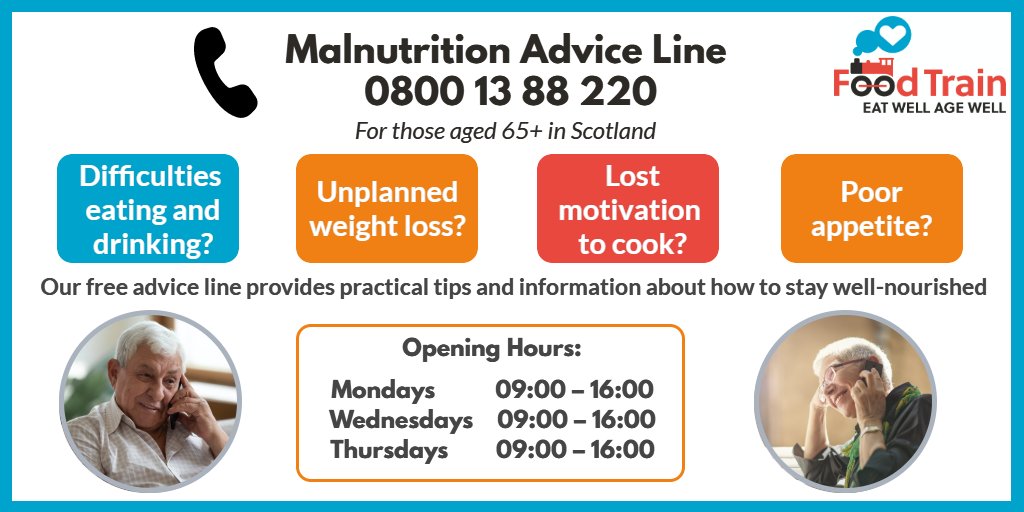 Malnutrition Advice Line: Following a successful pilot, Eat Well Age Well launched their Malnutrition Advice Line nationally across Scotland on the 1st of March 2021.
This advice line is a freephone line and aims to support older people who have a poor appetite and/or are experiencing unintentional weight loss to eat well and stay nourished at home.
The advice line is available to people aged 65 years or older, their family members, carers and health professionals supporting an older person to live at home in Scotland. The advice line has been set up and managed by Eat Well Age Well and is supported by trained staff and volunteers who are able to provide advice, information and signposting opportunities to further and/or support.
This advice line is managed by Jen Grant, an HCPC registered Dietitian,  and is not an emergency telephone line. It is aimed at offering support to those at low/moderate risk of malnutrition. Should a caller require more specialist dietary advice or medical intervention they will be signposted appropriately to their GP or an NHS dietitian.
The freephone number to call is 0800 13 88 220 and is open Mondays, Wednesdays, and Thursdays 9am – 4pm.