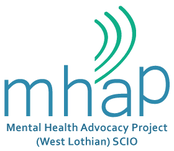 The Mental Health Advocacy Project (West Lothian) provides individual and collective advocacy services to people with mental health issues and/or addictions and to carers. The purpose of advocacy is to ensure that the people we represent have their voice heard and their rights upheld. ​
Individual advocacy is done on an issue based one-to-one basis and can be accessed by calling 01506 857 230 or emailing admin@mhap.org.uk. Collective advocacy takes the form of group meetings where collective goals are suggested and discussed before we put them in to action. Ordinarily, we run the West Lothian Mental Health Service User's Forum and The Voice of West Lothian which is a forum for people with substance issues but these have unfortunately been put on hold since the beginning of the pandemic.
In order to try and ensure that people's views are still heard when we cannot meet in person, we have started an online forum called the West Lothian Mental Health Forum which can be accessed on Facebook and is growing steadily with 51 members currently. We would really appreciate it if anyone who uses mental health services or would like to voice their opinion on mental health services in West Lothian would join the online forum and like our Facebook page. We will soon be starting a Zoom forum which will be advertised on these pages and we are always keen to hear people's thoughts on how to improve services in West Lothian.