The Volunteer Friendly Award is a simple, user-friendly quality standard designed to support, recognise and reward groups who have demonstrated excellent practice in involving volunteers. The Volunteer Friendly Award was devised by Volunteer Centre Dundee and introduced across Scotland in 2012.
VSGWL are licensed to deliver the Volunteer Friendly Award and offer support, guidance and information geared towards helping West Lothian organisations achieve a consistently high standard in working with volunteers.
5.8.1 What is Volunteer Friendly?
Volunteer Friendly is a quality award available throughout Scotland. It is based on the 10 standards from Investing in Volunteers designed to: Provide support, guidance and information on working with volunteers and recognise and reward groups who are good at working with volunteers. The Award has 5 parts or strands with 3 indicators for each of the 5 strands = 15 indicators in total. Organisations are required to put together a portfolio of evidence to demonstrate how they meet each of the 15 indicators. VSGWL offers the Volunteer Friendly Award free of charge to members. ​

5.8.2 Volunteer Friendly Process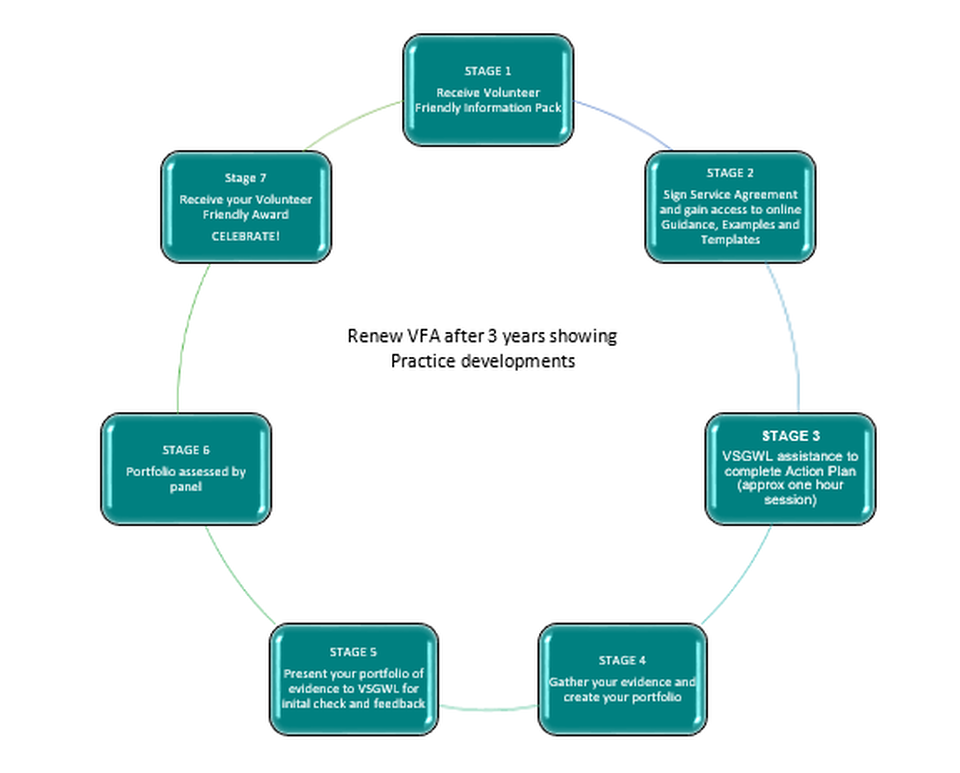 ​Organisations wishing to develop their volunteer and management practice are provided with support and information from VSGWL, full access to the Volunteer Friendly website (includes guidance, examples and templates) and peer support. As groups and organisations work through the toolkit they will start to gather various materials to prove what they do.  Policies, recruitment material, aims and objectives, committee minutes, volunteer training, etc.  Groups are also supported by VSGWL to put in place those procedures that are not currently in place.
​
Once the portfolio is checked by VSGWL it is submitted to an Assessment Panel who approve the content. Once achieved, organisations are presented with a Volunteer Friendly plaque and certificate. They will also be issued with the Volunteer friendly logo for stationery and publicity materials. The award is accredited for three years at which point a renewal process begins.
5.8.3 What difference will Volunteer Friendly make?
Volunteer Friendly standard is a great way to show that your organisation creates good quality, inclusive volunteering opportunities and endeavours to achieve best practice in volunteer management. The award is equally relevant for established groups who currently engage volunteers and those who are planning to engage volunteers and would like to ensure they have a strong foundation of good practice before they do so. The award helps to create effective community groups and will help attract potential volunteers to the organisation by showing that high standards have been achieved in these areas.  It is also an added mark of prestige to potential funders looking to ensure good volunteer management.
5.8.4 What are the benefits of being Volunteer Friendly?
Volunteers: Makes groups more attractive to potential and existing volunteers
Best practice: Acts as a measure to ensure best practice in managing volunteers
Funders: Shows potential funders groups with good volunteer management practice.
Sharing: Encourages groups to share their best practice
Improves: Volunteer opportunities will be improved
VSGWL: Enables VSGWL staff to engage with groups
5.8.5 How long does Volunteer Friendly take?
It is a very simple process, which takes between 2 weeks and 6 months to achieve or longer, if required. There is no time restriction.  VSGWL have two assessment panels per year.  These currently meet in September and April.  If a group were not ready for assessment they can wait until the next panel meeting.5.8.6 When can my organisation do Volunteer Friendly?
Anytime. Please get in touch with us on 01506 650111 or email vsg@vsgwl.org if you are interested, or have any questions.
​Additional information is available on the Volunteer Friendly award website www.volunteerfriendly.org.uk