The Larder's CEO and Founder, Angela Moohan was nominated by Foysol Choudhury, MSP for Lothian Region, as his 'Local Hero'. Angela joined many other local heroes at the official opening of the 6th session of the Scottish Parliament on the 2nd of October.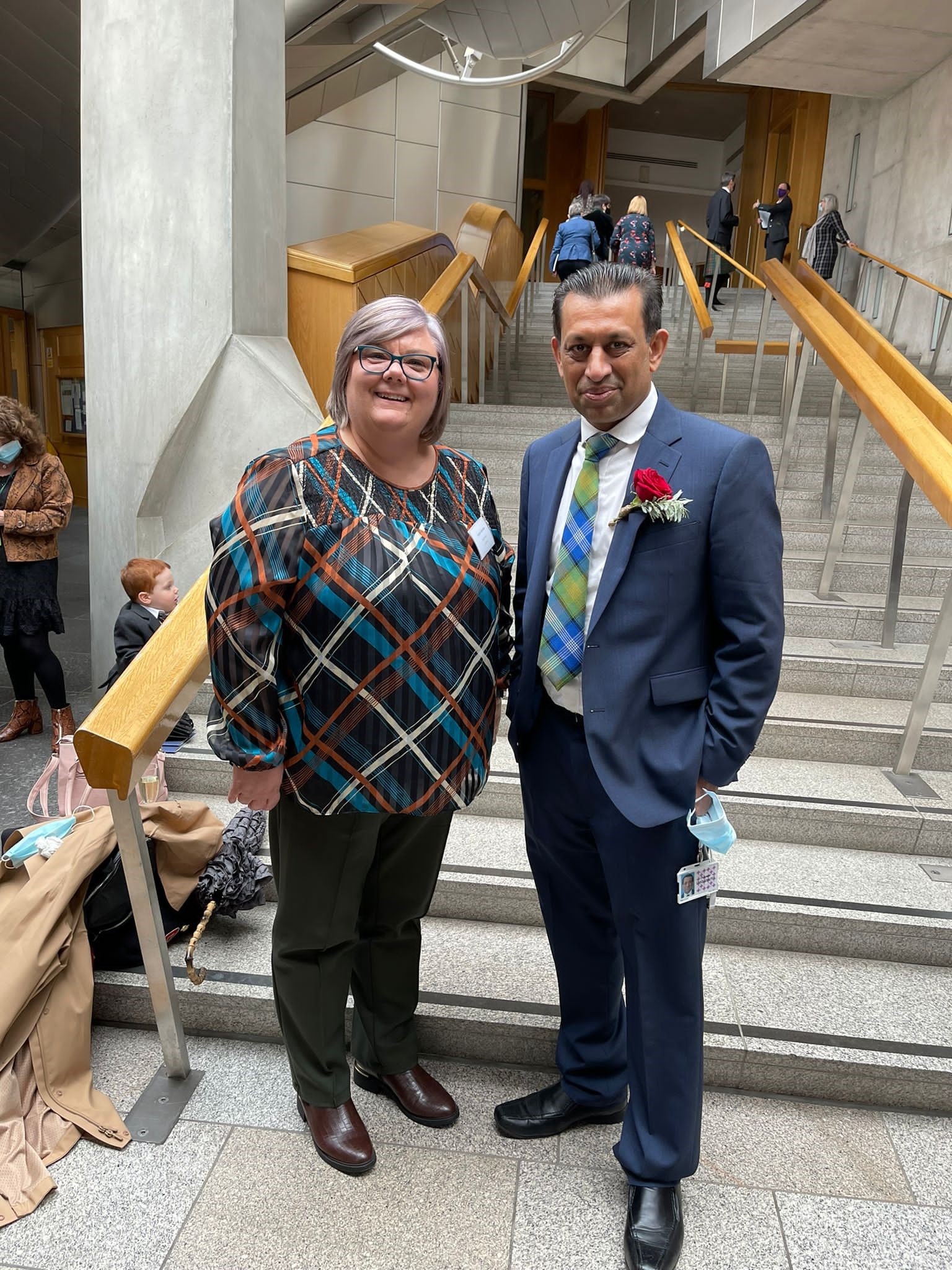 The Larder is a social enterprise operating across West Lothian, offering bespoke needs-led training opportunities for young people who have not had a fair start in life. They also support adults and families who are experiencing food insecurity and during Covid-19, and have distributed 114,000 meals to those most in need.
The Local Hero initiative was all about celebrating people from across Scotland for their contributions to their communities during the pandemic and beyond.
Angela and her Larder colleagues were delighted to have been chosen for their outstanding contribution during Covid-19 as they were able to continue to support 199 young people to continue their engagement with learning and 742 individuals to reduce hunger during the pandemic.
Angela Moohan, CEO, The Larder, said: "It is a privilege and I am proud to have been nominated by Foysol Choudhury. I thank him for recognising the great work that we do at The Larder.  This is not recognition of my personal efforts but of those of the whole team who showed great strength, dignity and compassion during the most challenging period of our time.  The whole team put others first and gave their all to ensure that no one was hungry and that there was continuity of our services for the young people that we support"
Foysol Choudhury, MSP for Lothian Region said: "As a newly elected MSP I reached out to my colleagues and others in the community and Angela and The Larder came up all the time.  I have worked with Angela in my position as the Chair of Edinburgh and Lothian's Regional Equality Council and know that she is committed to equality and social justice.  The work of The Larder is driven by compassion and a connectedness to the community that they serve and I look forward to developing a strong partnership with them during this term of the Scottish parliament."
The Larder has also been recognised for their exceptional efforts throughout the pandemic as finalists in the UK Third Sector Awards for Best Covid-19 Service Delivery Innovation, as well as being shortlisted for Social Enterprise Scotland, Social Enterprise of the Year and Social Enterprise Champion, SURF Awards in Youth Employability category and the Living Wage Awards in the Newcomer category.
To find out more about The Larder's services, you can head to their social media pages @LarderTraining or their website www.thelarder.org.