Jemma Boyle
My name is Jemma, I am 32 years of age and stay in Armadale, West Lothian. I have been a volunteer for around 15 years.
​My volunteering journey started in 2003 with the British Heart Foundation. My role was as a retail assistant. This meant I was pricing/tagging items for sale, tidying up around the shop and serving customers. I was with them for about a year and from this I gained confidence in dealing with the public as well as obtaining skills in the retail sector.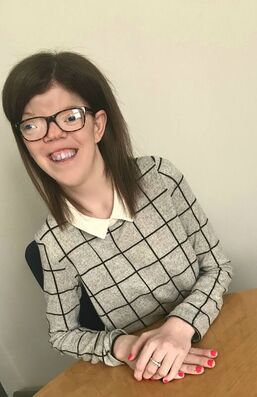 My next role was with the Ability Centre where I took on admin duties including answering the telephone and photocopying. From this I gained confidence in talking to members of the public over the phone. I was with them until 2006 when I started college.
I started with the Voluntary Sector Gateway West Lothian in 2007 where my roles have varied over the years, from data input to answering the telephone, photocopying, help with print jobs which included folding and collating and, more recently, administering the Saltire Awards. I also helped out at events including Volunteers Week, the Volunteer of the Year Awards and Third Sector Forums.
​
I began volunteering as a way to get me out of the house and socialise with other people. I was also struggling to find paid employment. I feel very proud being a volunteer and I have received many awards throughout the years which I am extremely proud of. Volunteering has helped me to keep my mind focused and positive, despite having complex physical disabilities. I have not let my disabilities affect me too much but I struggle with heavy lifting and I tire quite easily.